Welcome to our Product Catalog!
We admit that 30% of the promotional merchandise out there is junk. Brand Fuel's goal is to find out the "WHY" behind your search. We will do all we can to ensure that what you buy from us does not end up in the landfill. Heck, our Account Managers know that they could get fired if they sell you banana-shaped stress relievers.
Let Brand Fuel's Cool Hunters help source (and test) products to ensure we end up with the right branded merchandise, representative of your goals and your brand. We'll find the zig to your zag.
Ultimately, we will help you with:
We have gone to the prom with the quarterback. And we have learned lots of lessons along the way. So, when you've found what you're looking for, contact us so we can do a little more discovery or just use our shopping cart to submit your order.
Featured Blogs
"I can live for two months on a good compliment." — Mark Twain. Do you feel as if the company, where you spend 45% of your waking life, needs an injection of positive mojo? Why...
Featured Item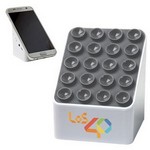 Angle 3 Watt Bluetooth® Speaker
This speaker is perfect for travel, the office or even your home! Our compact speaker is a great way to listen to your music from your phone or audio devices. It's easy to connect using Bluetooth V2.1...
$15.99 - $18.29